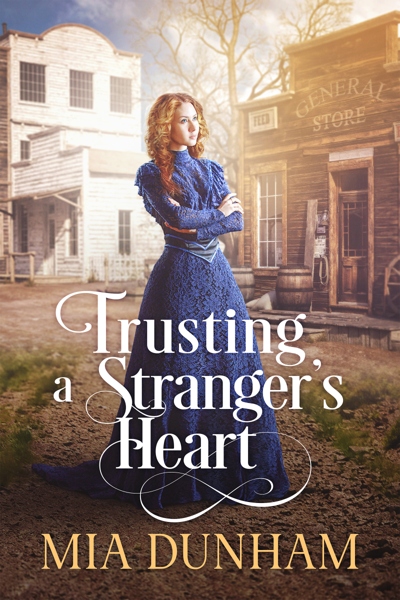 Eva hurried to the church, clutching her coat around her neck to combat the wind. She looked down at her four-year-old son, who was doing the same thing as her but still reaching up to hold her hand, despite the wind blowing up her sleeve and likely down his.
"Are you all right, Nicholas?" Eva asked loudly through the wind.
"Yes, Mama," the little boy responded, not looking up at her.
"Do you want me to carry you?"
"Yes, please." This time the boy turned to her, lifting both his arms toward her. She scooped him up and held him close as she hurried through the dirt lot. Everyone else was inside. She and Nicholas were late. Even James was already in there. He was probably waiting right by the door for her and their son to come through. If he knew what she was going through at that moment, he would have been out there to help her.
But there was probably no way to tell how strong the wind was from inside the building.
The sound likely didn't relay the strength very well. The church was a strong, solid building made of stone. The wind wasn't going to have much effect on it.
She got to the door and threw it open, bolting through into the warmth of the inner church. The sanctuary was beyond the double doors in front of her. There was no one in the front room like she'd expected. James wasn't there, which did surprise her.
She hurried to the sanctuary doors and was about to yank them open when she heard her name spoken by a voice she hadn't heard for nearly five years.
She spun around and saw it was indeed her father who had spoken to her. Nicholas grunted, and Eva realized she was squeezing him to the point of uncomfortableness. She relaxed her grip, giving him a loving apologetic look. "I'm so sorry, honey," she murmured. "Mama's got to talk to this man. You go in and find Papa, okay?"
She set Nicholas on his feet in front of her. Before she opened the door to the sanctuary, she stripped the jacket off the little boy. She patted him on the back of his head after opening the door. "Go find Papa, honey."
She watched him patter off down the aisle toward James, who was standing near the front of the church, talking to Bernie and the pastor.
She slowly closed the door and turned to her father.
"What do you want, Papa? Why are you here? Don't you think it's a little inappropriate to show up at the wedding of the woman you shot five years ago?"
"Please, Eva, hear me out."
Her father stepped into the light from the shadow, and all of Eva's bitter feelings dissipated. He looked like a stricken man, a man who had everything taken from him and had been left on the side of the street to rot in his own filth. His clothes were tattered, his face dirty, his fingernails too long, as well as his unkempt, unbrushed hair.
"Papa!" she exclaimed. "What happened to you? What has become of you?"
Her instinct was to go to him and reach out, hug him, and tell him he didn't have to live that way. He was a highly intelligent man whom Eva had always considered the most confident of all men.
Now he seemed to be a shell of his former self.
"I lost it all, Eva." He sounded on the verge of tears. The expression on his face said as much, as well. "I lost your mother and brothers and you, my house, my money, my friends. I have nothing left. Nothing at all."
Eva couldn't help feeling sorry for him. He was her father, after all. He'd given her life, even if he'd been unkind during a portion of it. She tilted her head to the side, pressing her lips together.
"When was the last time you spoke to Mama?" she asked.
Her father shut his eyes, clenching his jaw. "Not since she left Barker," he admitted.
Eva frowned. "You didn't say anything to her about coming to live here?"
"It's what she wanted to do," her father replied. "I hadn't been staying at home anyway."
Eva pulled in a deep breath, gathering her courage. "So you abandoned her, and then you were surprised when she abandoned you in return? And took her children with her?"
Eva's head snapped to the side when she heard the door to the sanctuary burst open. James came hurrying through. He turned around immediately and bent at the waist, saying, "Go stand with Uncle Bernie, Son. Mama and me will be right in. No, go on now. You don't need to see any of this. You're too little. You've got nothing to contribute right now. That's right, go on."
Eva loved the gentle way James was with their son. She couldn't wait to have more children with him. There would be another one in about six months, she had just found out.
James hurried over to them, his eyes flipping back and forth, concern on his face.
"Patrick Meyers," he stated. "I thought we'd seen the last of you when you shot my friend."
He put his arm around Eva, and she felt surrounded by his protection.
To his credit, her father looked crestfallen that he'd been greeted with the reminder.
"I…I'm not the same person I was back then…." He lowered his eyes to his daughter. "Please, Eva. You can see that, can't you? Tell your husband. Tell him I'm not the monster he thinks I am."
Eva felt a quandary building inside her. How was she supposed to handle this? She couldn't tell her husband her father wasn't a monster if she believed he actually was, could she? But did she really think of her father that way? Greedy, yes. Jealous, most likely. Not a very nice man, definitely. But a monster?
"I don't think you're a monster, Patrick," James said, using a firm voice. Eva felt him squeeze her shoulder in a reassuring way. "I just don't think you're welcome here." He turned his head and looked down at his wife. "Unless you want him here, Eva. You tell me what to do. If you want to talk to him without me, that's fine, I can give you some privacy." He surveyed the man standing in front of them. "I don't think he's capable of kidnapping you this time, is he?"
"No," Eva responded gently, her eyes on her father. "He isn't. It's okay, James. It's okay for him to be here. I want to talk to him anyway. You know, you should really clean yourself up before you go showing yourself around Second Chance, Papa. What if Mama were to see you this way? She would be disgusted."
Her father looked distraught, dropping his chin and staring at the ground. "I don't think she wants to see me anyway, Eva. I only came to appeal to you, to tell you I'm not the same anymore. I came to beg you for a second chance."
Eva was a little surprised by her father's take on the situation. It seemed to her he should be crawling back to her mother, not to her. But she had a feeling he didn't want his wife to see him that way. It made Eva want to take care of him, clean him up, and make him presentable for her mother. She could see how broken he really was.
"There are a lot of spare rooms in Christina's house, Papa. The one Perry let her have. Mama and Will have lived there with her for years. They were going to buy her out but then just asked her to stay on. Mama treats her like a daughter. She would have been a daughter-in-law if Perry hadn't turned out to be so much like you."
She saw that she had hurt him with her last words. She found it hard to care that she'd done it. Maybe he needed a few subtle reminders that what he'd done and letting five years pass weren't good things.
"Would you do that for me?" he asked, sounding shocked.
"Yes."
"I thought it would take a lot more convincing," her father admitted.
Eva couldn't help giving him a soft smile. The corners of her lips were barely raised.
"You have to be in there soon, Eva," James stated, pointing at the sanctuary. "Our best friends are about to get married, and we're in the ceremony. I'm sorry, Patrick, but you're going to have to wait. And I don't think you should go in there looking like this. Your family is in there, and I take it they don't know you're here."
"They don't know," her father confirmed. Eva could tell his spirit was coming back now that he thought he had a chance at getting his family back. It hurt her heart, but at the same time, she was happy.
James pulled a set of keys from his pocket and pulled one off the chain. He handed it to her father. "This is the key to our cottage. You go down this street here for half a mile and take a right on that road. Keep walking till you see a green house, light green in the distance with a big yard around it and a white fence. That's our home. Go in and clean yourself up.  You look to be about my size. Go ahead and grab some clothes. We will come to the house right after the ceremony. We'll take it from there. That all right with you?"
Eva was astounded by her husband's generosity. She moved closer to him, just wanting to touch him slightly. He glanced at her but returned his questioning gaze to her father. The man took the key, a look of shame on his face.
"Thank you for your help…Mr…."
"Just call me James," James said. Eva wasn't surprised that there was a certain hardness to his tone. She wondered how long that would be there. "Go ahead. We've got to get in there so they can start this wedding. We don't want to be the ones to hold it up."
Eva watched her father walk out the door. She turned to James and put her arms around him, squeezing him tight.
"What a lovely and generous thing to do, Jimmy. I didn't think you would trust him with a key to our house."
"He's not going to take anything from there or hurt anything," James replied, shaking his head and directing her toward the sanctuary doors. "He's used to a life of luxury. Nothing in our place is going to be to his liking."
They both laughed softly.
"Still, thank you, sweetheart. It was a nice thing to do, after all he did."
"It's been a long time," James replied in his smooth voice, still making her heart pound after five years of marriage. She leaned her head on him as they walked through the sanctuary door he'd opened for them. Bernie was hurrying up the aisle toward them as soon as he saw them, an anxious look on his face.
"Oops, I think we held things up a little too long for Bernie's liking," James said in a slightly warning tone.
Eva giggled. Bernie had asked Christina to marry him almost a year ago. If he'd wanted things to go quickly, he had a strange way of showing it.
"You think she's ready?" Bernie asked as soon as he was close enough. He used a hushed voice, but she and James heard him.
They both started laughing, to which Bernie gave them a confused look. This only made them laugh harder.
"I reckon we didn't hold anything up at all," James stated, humor in his voice. "Go see about the bride, sweetheart. She's got a man to marry, and he's starting to look a little sweaty."
Eva laughed, hurrying back through the doors of the sanctuary to find her friend, feeling as if the good life had just begun.
THE END
---
Readers who read this book also liked